Naomi Danischewsky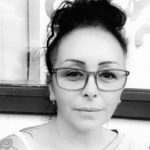 BORN: Albany Western Australia
LANGUAGE GROUP: Noongar
LIVES: Geraldton
Naomi Danischewsky is a Noongar artist who was born in Albany in the South West of WA but was raised in Geraldton and still resides there today.
Naomi has been a full time artist for 20 years. In 1999 Naomi completed a full time course in Advanced Certificate of Aboriginal Art and Design at Geraldton TAFE. Naomi then completed a Certificate 2 in Visual Arts and Contemporary Craft in 2012.
During this period Naomi has conducted workshops in remote Aboriginal Communities and delivered workshops at local Primary Schools for NAIDOC week activities.
Naomi has participated in 5 exhibitions and has sold many artworks of which some have become a part of private collection in Government buildings, Naomi successfully  entered a Public Art Competition which resulted in her artwork being permanently  displayed on the outside of the Stirlings Shopping Centre in Geraldton.
The ocean and nature have a big influence on Naomi's work, where bright colours and acrylic layering feature in all of her artwork.
Artworks