Josh Gellatly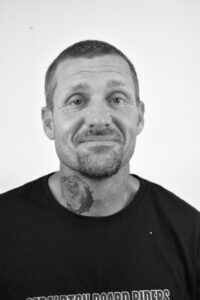 LANGUAGE GROUP: Badimaya
LIVES: Geraldton, WA
I use my artwork as a release & healing for my mental health. When I create it gives me a feeling of calmness.
I mainly use Acrylic on Canvas, with the use of an overlaying of line design in bold colours, I use a handmade thin paint brush to make the fine lines in my design.
I like doing line work, because they used to do it in the old days.
I have won 8 Art First Prizes in the Perenjori Show & 1 Second prize, I was also the overall winner for the Art prizes.
My works are at the Kalbarri & Margaret River Hospitals, which I kindly donated.
Artworks