Kyra Johnson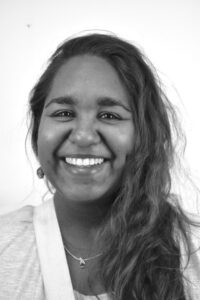 BORN: Geraldton
LANGUAGE GROUP: Badimaya, Mirrawong
LIVES: Geraldton
Kyra Johnson Is a Yamaji/ Mirrawong Woman born in Geraldton, WA. Kyra grew up spending most of her childhood in a small Kimberly town Kununurra with her family, but later moved back to Geraldton where she found her passion for painting. 
Growing up on country and being around family has strongly influenced Kyra as an artist, painting about native animals, cultural stories and her connection to her land and people. Kyra's style is subtly detailed, using vibrant colours & fine lines, the smoothness of Kyra's artwork draws viewers in when telling her stories.  
Throughout Kyra's years as an artist shes had the opportunities to development her natural talent and expressed her creativity in many different mediums. After attending multiple artist personal development days, and completing certificates at the Central regional Tafe, Kyra worked with ceramics, lino, textiles and jewellery. Later moving onto working with digital designs which were then produced onto fabric, followed by some pieces of handmade clothing. Kyra has also been a part of public commissioned artworks & public murals with local schools and organizations. 
Kyra still continues to create her beautiful artworks at home in the comfort of her family. 
"I like telling a story and getting a message across, I find peace when creating art, it also just helps relax my mind." 
Artworks