Kevin Merritt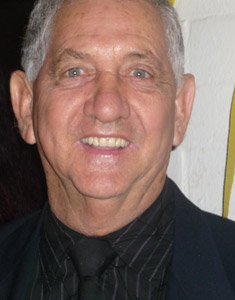 BORN: Mullewa, Western Australia
LANGUAGE GROUP:  Wajarri
REGION:   Murchison Region also known as the Yamaji Region
Senior Wajarri Artist Kevin was born in Mullewa on 2nd January 1943.  He spent most of his childhood in Mullewa with his family and many relatives. Kevin with his wife Barbara and their children later lived in Perth, Karalundi and Wiluna before returning to Mullewa and then finally settling in Geraldton.
Kevin started his journey as an Artist in the last couple of years with great inspiration from watching Barbara creating artworks
Kevin has many jobs over the years from working in the post office, railways and medical service to mention a few.  He is now a very active senior member of the Geraldton Aboriginal Community being a Director of the local Aboriginal radio station and Mara Arts Aboriginal Corporation.  Kevin is often called upon to do welcome to country ceremonies within Mullewa and Geraldton.
Kevin likes to paint about his experiences and life from his perspective. Kevin said his philosophy is life is to 'Respect each other and get on in life.'
Kevin is represented by Yamaji Art Centre , Geraldton ,Western Australia .
Artworks
Exhibitions
2009 Ilgarijiri, AIATSIS, Canberra
2009 Ilgarijiri, Curtin University, Perth